Frequently asked questions about trolley cycling
Ahead of the cycling
How do I make a reservation?
You can simply book directly here on our website. Information and reservations for each route: Hultsfred, Flaten, Virserum, Åseda. Unfortunately we cannot accept bookings via e-mail, but instead refer you to the online booking. This is because there is a lot of interest and we primarily want to help visitors on location. The telephone booking is limited, so it can be done when we have time, the current booking situation can always be seen on the website.
---
How do I cancel a booking?
You can simply cancel on our booking page, the link differs depending on which route you have booked. If you cannot log in please e-mail us at [email protected] and state your booking number and the route you booked and we will help you.
Cancel cycling starting in Flaten or Hultsfred
Cancel cycling starting in Virserum or Åseda
---
How do I pay?
We accept swish payment and card payments in all locations, payment is made when you arrive so you do not need to pay in advance.
---
Do I need to wear any particular clothes?
Dress according to weather, remember that you are out cycling in nature. Do not wear any very sensitive clothes in other words.
---
Do I need to wear a helmet?
We obviously recommend that you wear a helmet, particularly for children and young people. There is a small number of helmets to borrow at the start if you have forgotten your own helmet.
---
Can the smallest children come along?
Absolutely. Children who can sit upright/fastened in a car seat is completely fine. We have special children's seats that are hung from the trolleys. Remember that there are a limited number per route.
---
How many can sit on a bike?
The trolleys can take two people.
---
Do we cycle one way or there and back again?
You start and finish at the same place. If you for example rent the trolley in Virserum and cycle to Åseda you then also cycle back to Virserum.
---
Can I bring my dog?
Ja det går att ta med sig hunden, men tänk på att det är en ganska högljudd miljö för en hund med deras goda hörsel. Hunden bör även vara bekväm med att sitta på flaket på dressinen, så den inte hoppar av i farten t.ex. Överväg gärna om hunden måste följa med innan ni tar med den.
---
While you are cycling
Are there rules for the cycling?
Before you set off you will sign an agreement containing our traffic rules. Our staff will also go through these with the entire group before you head off. Along the routes there are also stop signs etc. showing where you must stop and lead the trolley.
---
Can I stop wherever I want?
Absolutely, remember to lift the trolley off the track so that others can pass if, for example, you want to stop and take a coffee break along the way. Also, remember to respect private land and gardens.
---
What happens when I meet other cyclists?
Depending on the direction either you or the opposite cyclist lift off the trolley. Our staff will inform you about this beforehand. Remember to lift the frame/bottom of the trolley, not the handles etc.
---
How do I turn the trolley?
The easiest way is to use our turning platforms, they can be found at select locations along the route. Otherwise you turn the trolley by lifting, one in each end of the frame (not handles/sets etc.). Our staff will show you how it is done before you set off.
---
Will my cycling produce a lot of noise?
Even if it is a relatively quiet experience one must remember that the wheels are made of metal, so are the rails. Hence it will be louder than a normal bike. For the smallest children we recommend ear defenders, as well as for adults who feel that background noise is difficult.
---
Do I have to cycle all the way and back?
It is optional how far you cycle but you always have to come back to the start point. So if you start in e.g. Virserum you must finish the trip there after four or eight hours.
After the cycling
Something went wrong, who do I contact?
Talk to our staff directly on the scene straight away and we will try to solve it directly. Otherwise it is easiest to reach us via e-mail or Facebook, and we will help you.
---
I have forgotten something
Get in touch with us via e-mail or Facebook, and we will help you.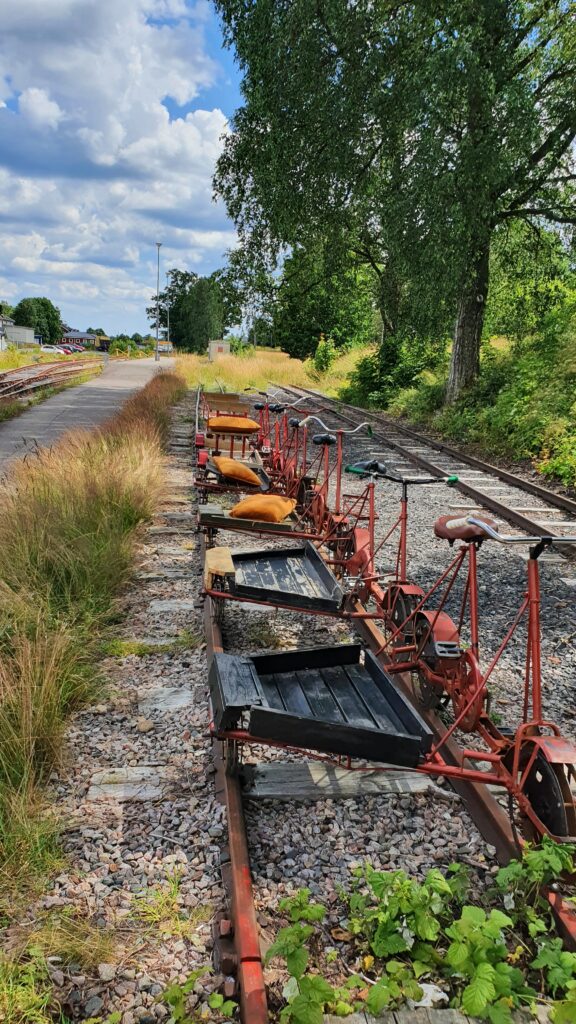 About Smalspåret
Föreningen Smalspåret Växjö-Västervik is a non-profit non-political association founded in 1984 and now has more than one thousand members.
The association works to preserve and develop the narrow-gauge railway between Växjö and Västervik in its current routing. Read more about the association. mer om föreningen.
Contact us