Ride a trolley from Virserum
Rotera telefonen! För att kunna använda vår bokning på små skärmar behöver du hålla telefonen i landskapsläge.
Beautiful lakes and deep forests
From Virserum you cycle towards Åseda which is 27 km south of Virserum. The first thing you will see are the beautiful lakes that the railway runs alongside for the first five kilometres down to Mosstorp station.
From Mosstorp you enter the deep Småland woods, far from the nearest motor road. Triabo is located half way and it also a popular rest stop with swings and benches etc.
The cycle route continues up towards the uplands and the station village Hultanäs. The station building has been renovated by the association and returned to its 50s design with the classic ticket office and post office boxes. Please have a look in through the waiting room door.
A short while after Hultanäs you will reach the highest point of the railway and find yourself 125 metres higher up than at the start in Virserum. This also means that you will pedal back home towards Virserum with ease as there is a light descending gradient large parts of the way home.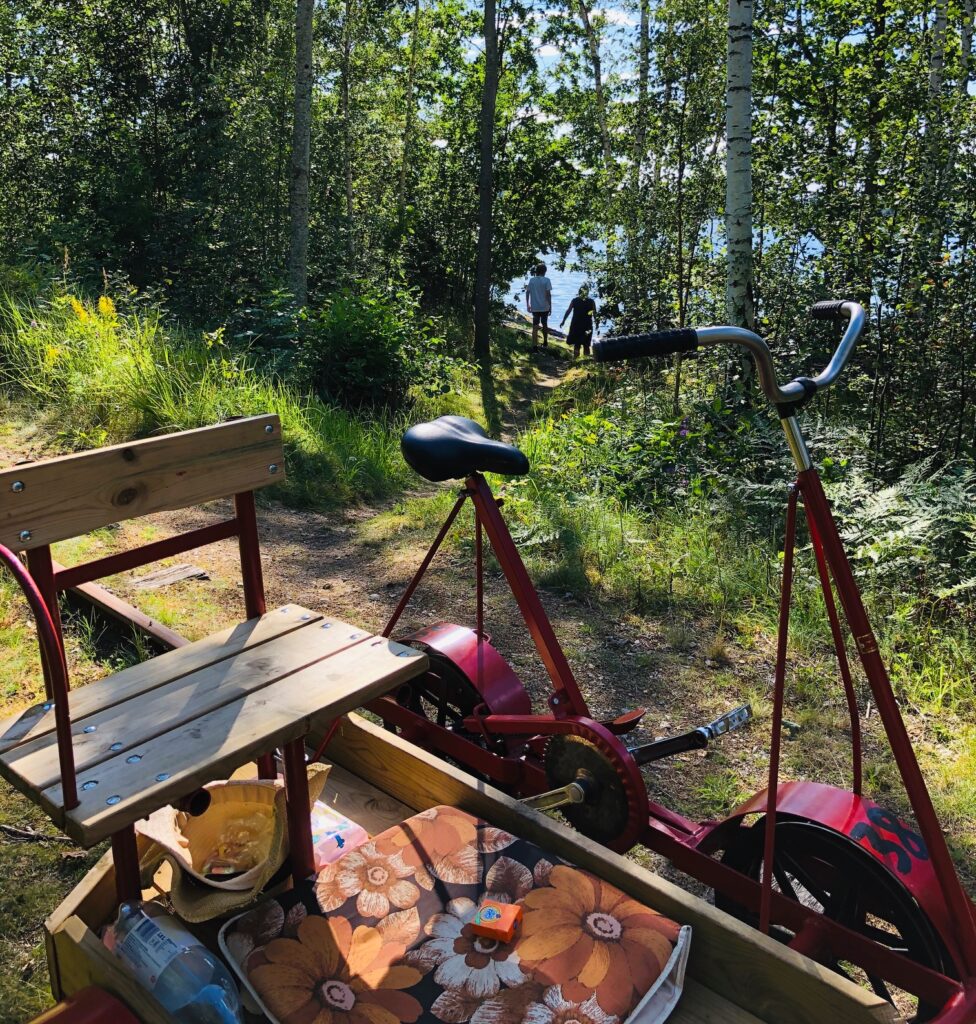 Opening hours
Prices
| | |
| --- | --- |
| Half day | (4 hours) |
| Adults (16 years and older) | SEK 200 |
| Children (7-16 years) | SEK 100 |
| Children (0-6 years) | Free when accompanied by a parent |
Members of Föreningen Smalspåret Växjö-Västervik and shareholders of Smalspåret i Hultsfred AB get a 50% discount.
Good to know
In Virserum the trolleys that can be booked in advance are the model with a chair on the side which means that the trolley seats up to two adults.
Ladda bilen
I Virserum har vi en laddplats (3-fas 16A, 11kW). Platsen kan ej förbokas utan meddela vid ankomst så hjälper vi dig. I mån att platsen är ledig, Skylt om laddplats har ej kommit ännu. Priset är 3kr/kWh och betalas efter laddning.
Photo: Karin Trygg / Olaf Lindström
A few words from previous visitors:

Two well-preserved stations where the station area in Virserum with its old Pressbyrån kiosk stands out. It was also fun to see the old functional level crossing in Triabo.
No problems renting a trolley in the off-season. Good service.
Christer Nytén
---

Very beautiful and fun for the whole family.
Jocke Johansson
We offer several different trolley ride routes:
Cycle along lake Hulingen to experience passing through the pine forest before you reach the rest stop in Ödhult. From Ödhult the cycling continues towards the beautiful lake Hesjön where you can stop for a coffee break or a barbecue. The route is a maximum of 22 km.
Our newest route starting by the carefully recreated and renovated Flaten station. Peek into the waiting room before you set off north along a varied landscape with lakes, meadows and forests. The route is a maximum of 12 km .
Cycle from Virserums station and experience the historical grounds of the Dacke War as you pedal past old cultural landscapes and beautiful lakes. Do not miss the beautiful station environment in Virserum with a nostalgia kiosk, phone booth etc. The route is a maximum of 53 km.
The same route as Virserum to Åseda but starting in Åseda. Here you will find shops, cafés etc. so make sure to buy refreshments for the trip before you cycle up towards Hultanäs and then on towards Virserum. The route is a maximum of 53 km.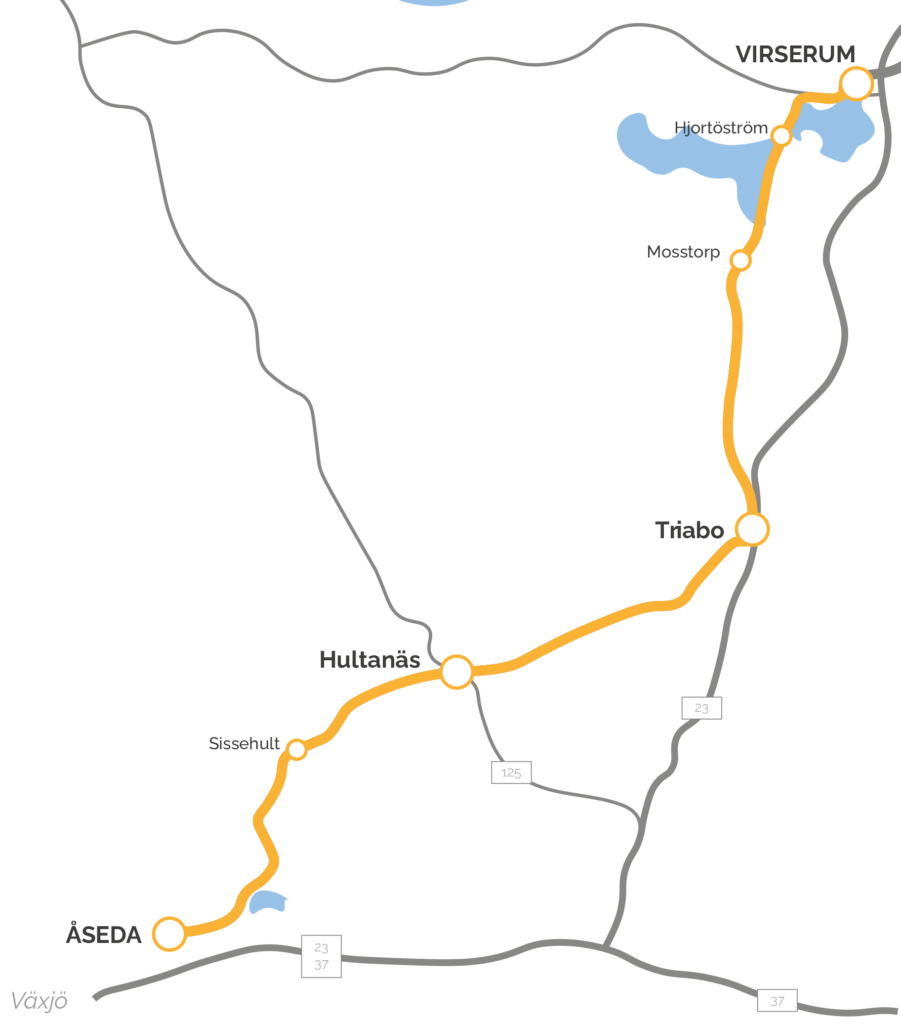 Cycle a trolley between Virserum – Åseda:
The trolley is picked up from Virserum station which is very well-preserved in a 50s/60s design with an accompanying Pressbyrån kiosk, phone booth, lamp posts etc. Parking by the station.
3 km: Hjortöström, with remains of a mill ruin with a pond. Just after the stop there is a rest area with picnic tables. South of Hjortöstöm the railway follows the beautiful landscape along lake Hjortesjön and past the lineman's cottage in Aggatorp.
5 km: Mosstorp station situated by lake Bridd. A very beautiful environment with a view over lake Bridd. A rest area can be found in the furter away section of the station area by the overpass.
9 km: you will pass the lineman's cottage Holm which is one of the best preserved lineman's cottages along the entire route.
10 km: Triabo. Här finns den största rastplatsen med fikabord, soptunna, gungorn för barnen m.m. Vägkorsningen är en av de äldst bevarade i landet.
15 km: The former lineman's cottage in Häradskögle. Here is a basic rest area, please bring a blanket if you would like to sit on the grass.
17 km: The village of Hultanäs with an antique shop and rest area. The shop also sells ice-cream. The station building is again owned by the museum railway and has been restored to its 50s design.
21 km: The Sissehult stop is passed, the crest before is the highest point on the entire route and is about 250 metres above sea-level. A rise of 125 metres compared to Virserum.
26 km: We are getting close to Åseda. Once at the station you are at the centre of town with proximity to cafés, grocery stores and restaurants!
About Smalspåret
Föreningen Smalspåret Växjö-Västervik is a non-profit non-political association founded in 1984 and now has more than one thousand members.
The association works to preserve and develop the narrow-gauge railway between Växjö and Västervik in its current routing. Read more about the association. mer om föreningen.
Contact us